---
Suzuki Swift GTi
---
I originally bought this as a run-around to gather parts for another car I was building at the time but ended up doing this one instead.
---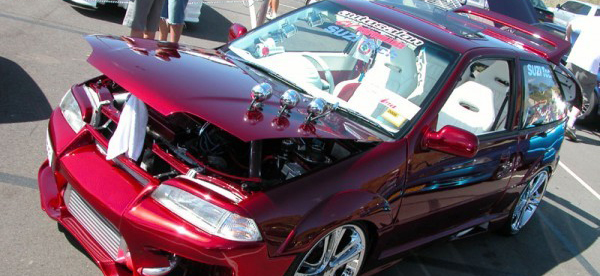 ---
Building a car this intense required an intense engine, the block itself was taken from my previous Suzuki which was given a freshen up before installation.  The engine already had all steel internals and was bored out to 1.4litres.  It has a billet steel crankshaft and billet forged steel connecting rods.  To cope with the extra load of adding boost, we chose pistons from a 1.3litre Hyabusa road bike engine.  Once modified to fit the car engine cylinders, these pistons created a much more "boostable" compression ratio of 7.9:1.
Turbo charging the naturally aspirated unit was handed over to SUZITech in Thornleigh.  They started with a TD04 normally found in a Subaru WRX, added a high-flowed IHI turbine and compressor wheel and then built a custom HPC-coated manifold.
The boost can be pre-set to anything up to 28psi, controlled by a Garrett T28 wastegate.  Exhaust gasses make their way to the rear of the car via a 3″ dump and main pipes before exiting via twin 2″ stainless steel 'canon style' mufflers.
Keeping intake temperatures at optimal levels in such a small engine bay is no mean feat so we mounted a large, HPC coated intercooler and pipes in the front bar.  This cooled charge air is then fed to the engine via an SR20 throttle body, modified to fit the custom plenum chamber.
Naturally, with all the extra oxygen now available for the combustion process, an uprated fuel system was required to match.  We built a custom surge tank that feeds a VL Commodore pump while an EMS computer system controls fuel through four Toyota Supra injectors.
---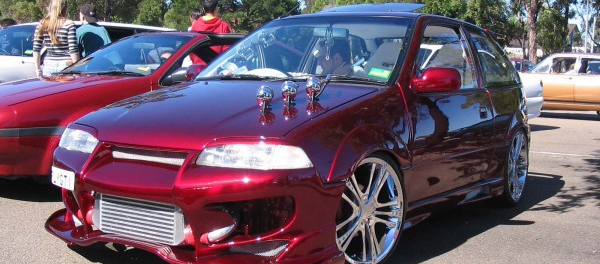 ---
Making sure the car had the "show" to match the "go" was not easy with such a small starting canvas.  We began the process with the wheels, they are 18×7.5″ Zenetti rims with a chrome finish and pretty much everything had to be modified to make them fit.  The 4″ drop in ride height didn't help much either!
Rounding things off externally is a custom blend of Candy Apple Red over a full body kit incorporating a custom roof-wing, Cyber eyelids, modified Edge 200sx side skirts, VeilSide front bar and a custom Aero rear bar.
---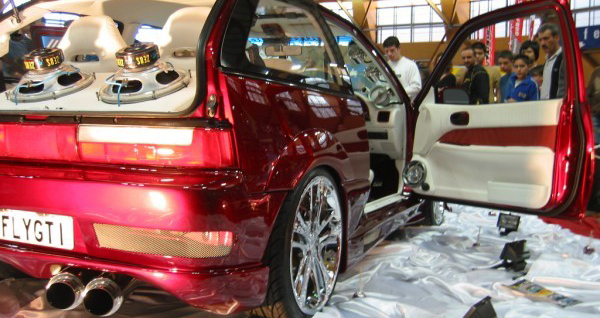 ---